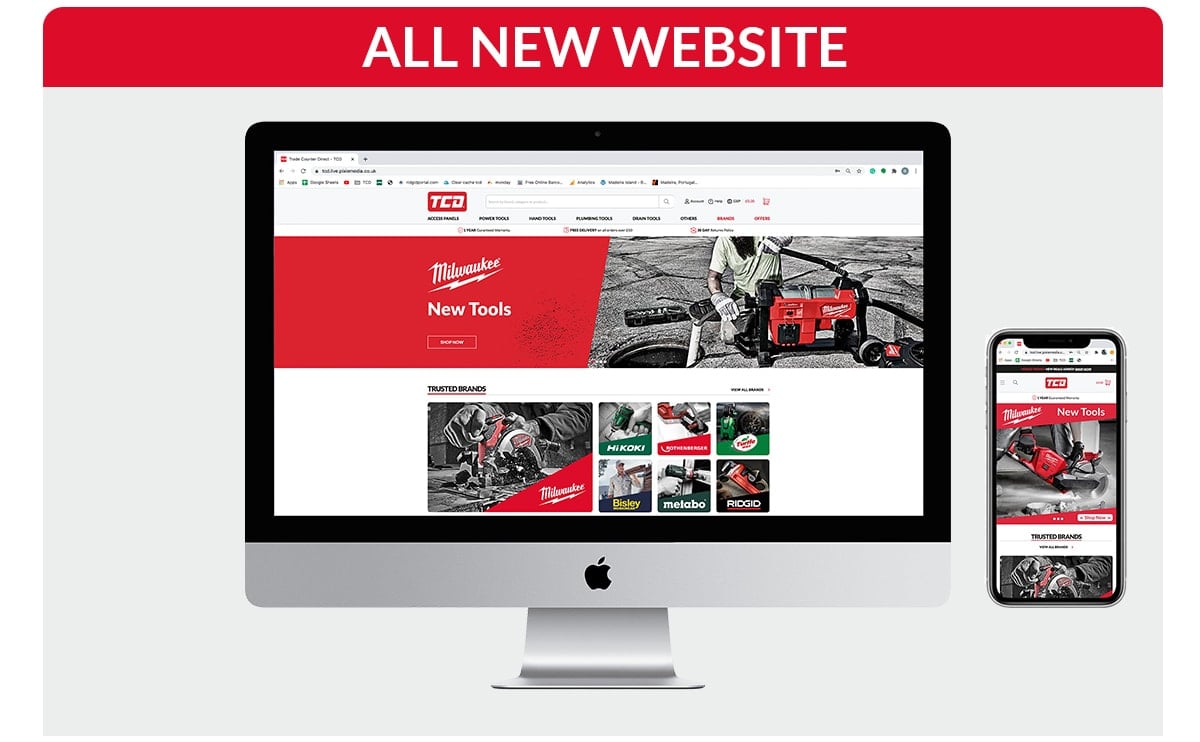 Hi and welcome to the new Trade Counter Direct (TCD) website. Hopefully everything you need is where it should be, however if you have any concerns about your current orders with us or if you can't find anything then please don't hesitate to get in touch with us either via the 'Messenger' chat at the bottom of every page or contact us using the contact form found on this page.
What's New
Trade Points - Be rewarded when you shop. TRADE POINTS are our way of saying "thank you" for your custom. Quite simply - every time you shop with TCD you accumulate TRADE POINTS on your purchases. These points can either be redeemed as a discount against your next order or, can be saved up over time so that your entire order is paid using TRADE POINTS.
Mobile Shopping - The new TCD site has been designed to work perfectly on mobile and tablets while you're on the move. You have access to everything on mobile that you get on desktops and more. Quick payments through Apple Pay and PayPal One-click make things super easy to order on the move. Log in and track everything from your phone once you've created an account.
Trusted Brand Pages - We know a good brand means a lot when it comes to tools, so we've built mini-websites where you can shop by your favorite brands. If you like Milwaukee tools, we'll give you all the Milwaukee tools in one place! This makes shopping for all the best tool,s that go together easier. (Check out our trusted brand site below)
Fast Check Out - Once you've checked out once you can choose to save all your details so you only ever need your credit card CVS number to checkout. Super fast and super safe.
New Search - We have a new powerful search that learns as people search the site to show the most relevant results again making life easy on mobile and desktop.
Improved Navigation - We have redesigned our navigation to help you find what you need faster.
Downloadable invoices - This was a feature missing from the old site which is now updated. We will send an invoice as soon as payment clears and you'll be able to download a copy from your dashboard when logged in on mobile or desktop.
New products - Not just a new site...we've also got lots of new products from the best brands.
What's happened to my old orders?
All of your old orders have been brought into the new site, so once you're logged in you should be able to find everything from the old site in the new shiny one.
If you have any problems logging in try resetting your password here: https://www.tradecounterdirect.com/customer/account/forgotpassword/
I ordered on the old site - what will happen to my order?
If you placed an order on the old site and haven't received anything yet, don't worry we will process everything the same. All orders have been mirrored to the new site and you shouldn't need to do anything. As soon as your order is dispatched we'll email confirmation with all your tracking details.
When do I start earning trade points?
Points will start being awarded on orders placed after 10/09/2020