What are TRADE POINTS?
TRADE POINTS are our way of saying "thank you" for your custom. Quite simply - every time you shop with TCD you accumulate TRADE POINTS on your purchases. These points can either be redeemed as a discount against your next order or, can be saved up over time so that your entire order is paid using TRADE POINTS.
TRADE POINTS Membership
When you register as a customer with TCD, or if you are an existing registered customer, you will automatically have been given a free membership to TRADE POINTS.
How to earn TRADE POINTS
It's really very simple! For every £1 you spend at TCD (excluding shipping costs) you will earn 10 TRADE POINTS. The more you spend the more you earn!
You must be a registered customer and logged in to your account when placing your order. Points are then automatically calculated on your order value and added to your account.
To register with TCD please click here.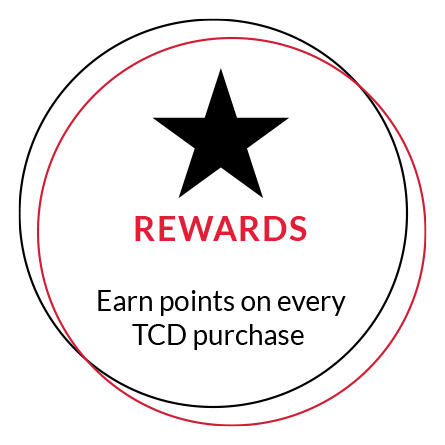 How much are TRADE POINTS worth?
If you spend £100, you will receive 1,000 TRADE POINTS. When it comes to redeeming TRADE POINTS, every 500 points is worth £1 to you, therefore 1,000 TRADE POINTS = £2.
How can I spend my TRADE POINTS?
Points can be applied in the checkout, simply apply the amount you wish to spend.
Where can I see my TRADE POINTS Balance?
In the My Account section, you will see a link on the left of the page titled TRADE POINTS. Here you will be able to check your points balance and track exactly how you have spent and accumulated your TRADE POINTS
How long are TRADE POINTS valid for?
We value your custom and support, so unlike other schemes your TRADE POINTS will always be active and here for you anytime you choose to shop with us.
Are there any restrictions on spending TRADE POINTS
TRADE POINTS can't be redeemed against delivery costs
Exclusive Offers, Birthday Points and Bonus Days
Exclusive Offers: Get Exclusive tailored made deals based around your trade, interests and favourite brands.
Birthday Points: On your Birthday we'll send you additional trade points to spend within the week.
Bonus Days: on certain days we'll offer you bonus points for spending with us, so make sure you sign up to our marketing emails.
TRADE POINT REVIEWS
Once you've completed a purchase with TCD we'll send you a follow-up email asking for you to review our service and products.
As a thank you we'll give you extra trade points for leaving an Approved Review on products or services.
Shop By Brand